Prep is key. Fact. 
Whether you're staying local or travelling to visit family and friends, having free reign in a kitchen will give you a new lease of life. 
We're not talking about cooking that famous festive dinner on that one famous day of the year; we mean all the others. We mean the warm ups before and after. The holidays. The 'stretch your stomach' diet with a crisp Winter walk later to help you feel less guilty. The time of year when there are no rules, but then you start craving rules when you no longer know what day it is, and you want to indulge but at the same time relish (extra hot), in good, not too 'dirty' food. 
Heading on down to your local market, green grocers, butchers, bakers; wherever you are, can make you feel rich and full – literally as well as metaphorically. If you're staying in Scotland, Clark Anderson Properties can let you know the best places to shop local too. Make a list, plan ahead and throw together some classic dishes, fakeaway meals and holiday warmers. 
We've collated six of our favourite recipes for you to enjoy – meals that require minimal prep, ideal for when you're on a staycation!
Let us know your favourites, please. Don't be afraid to look up our office address too as we will most happily get involved in any kind of taste tests required.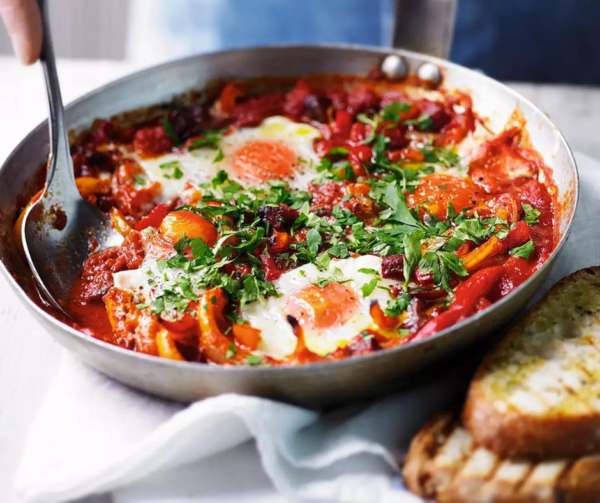 2 tbsp olive oil

1 onion, finely sliced

120g Cooks' Ingredients Diced Chorizo

1 yellow pepper, finely sliced

1 orange pepper, finely sliced

2 garlic cloves, crushed

½ tsp sweet smoked paprika

400g chopped tomatoes

4 Burford Browns Free Range Eggs

½ 25g pack parsley, chopped

2 slices country-style bread
Preheat the oven to 200°C, gas mark 6. In a frying pan, with an ovenproof handle, heat the olive oil, add the onion and chorizo, and cook for 4-5 minutes until soft. Then add the peppers and continue to cook for 2-3 minutes until softened. Stir in the garlic and sweet smoked paprika, cook for 1 minute. Then add the tomatoes. Lower the heat and simmer for 10 minutes, until the tomatoes are reduced slightly and softened.
Make four wells in the peppery sauce and crack an egg into each.
Place in the preheated oven to cook for 10 minutes until the eggs are set but the yolks are still runny. Scatter with parsley and serve with the sliced bread, toasted and drizzled with a little olive oil.
Eggy Bread Cheesy Toasties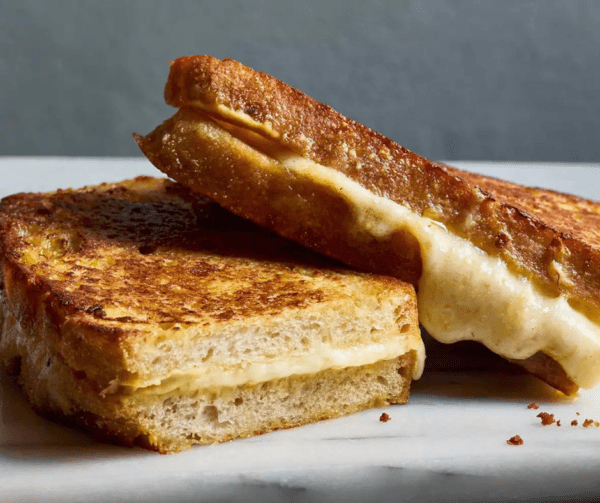 1 British Blacktail Free Range Medium Egg

2 tbsp whole milk

2 slice/s No.1 White Sourdough Bread

40g grated Gruyère

30g grated mozzarella

½ tsp Dijon mustard

15g unsalted butter
Beat the egg with the whole milk and pour into a shallow bowl. Soak the slices of sourdough bread in the mixture for 30 seconds, then flip over and repeat; set aside.
Meanwhile, combine the grated Gruyère and mozzarella together. Spread the mustard over 1 side of a slice of soaked bread, pile the cheese on top, then top with the other soaked slice.
Heat the unsalted butter in a frying pan over a medium heat. Once melted and hot, add the sandwich. Fry for 2-3 minutes, until deep golden brown, then flip over and repeat. Cut in half and serve immediately.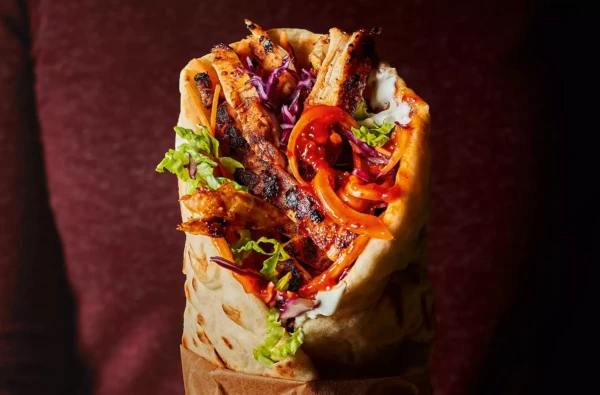 1kg Essential Chicken Thigh Fillets

4 tbsp Cooks' Ingredients Shawarma Spice Paste

1 Essential Onion, finely sliced

3 tbsp tomato ketchup

3 tbsp Cooks' Ingredients Sticky Chilli & Garlic sauce

1 lemon, juice of ½, ½ in wedges

¼ red cabbage, finely shredded

1 Essential Carrot, coarsely grated

1 Essential Little Gem Lettuce, shredded

1 tsp Essential Olive Oil

4 Levantine Table Handstretched Flatbreads (2 packs)

230g tub Tzatziki
Use a rolling pin to bash any fatter parts of the chicken thighs to even out the thickness. Put in a bowl, add the shawarma paste and use your hands to coat the chicken in the paste (use a clean pair of rubber gloves, if you like). Cover and set aside at room temperature for 30 minutes or cover and chill for up to 24 hours.
Meanwhile, put the onion in a small bowl with a pinch of salt. Stir in the ketchup, chilli sauce and lemon juice; set aside. Toss together the shredded cabbage and carrot in a bowl with a good pinch of salt; set aside. Put the lettuce in a serving bowl.
Heat a griddle pan over a high heat and, once hot, drizzle in the oil and carefully wipe out with kitchen paper. Cook the chicken for 5 minutes, undisturbed, then turn the thighs over and continue to cook for a further 5 minutes or until cooked through with no pink meat remaining. Transfer to a board to rest. Put the griddle back on the heat and cook each of the flatbreads for 2 minutes, flipping halfway through. Slice the chicken and pile on top of the warm flatbreads with generous dollops of the onion chutney, plenty of salad and spoonfuls of tzatziki. Serve with the lemon wedges for squeezing.
Top Tip: Leftovers 
Chop the leftover chicken shawarma and fold through mixed leaves with any other salad veggies. Mix a drizzle of olive oil and a splash of water into leftover tzatziki to make a dressing to toss through the salad.
Bang Bang Cauliflower Tacos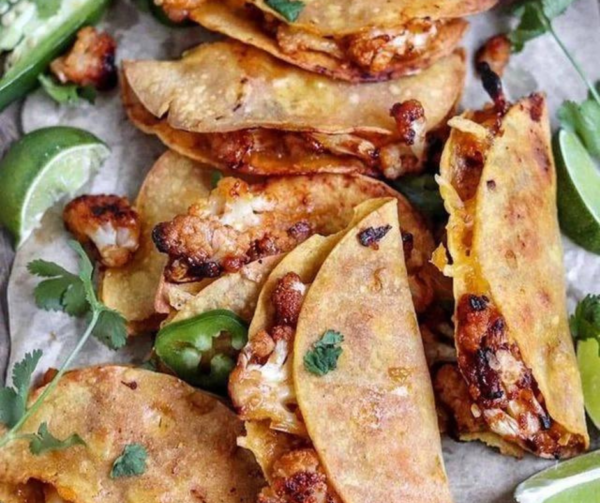 150g flour

2 tsp smoked paprika

250ml milk

200g panko breadcrumbs

1 large cauliflower cut into bite-size florets (500g prepared weight)

For the bang bang sauce

100g sweet chilli sauce

2 tbsp sriracha

1 tsp soy sauce

2 tsp lime juice

To serve

1 Little Gem lettuce, shredded

4 spring onions, sliced

2 tomatoes, finely chopped

½ small bunch of coriander, chopped

1 chilli, finely chopped (optional)

10-12 tortilla wraps, warmed, and lime wedges
Heat the oven to 220C/200C fan/gas 7. Mix the flour, paprika, a large pinch of salt and a grinding of black pepper together in a bowl, then whisk in the milk to make a smooth batter. Tip the breadcrumbs onto a shallow plate or tray. Quickly dip each cauliflower floret into the batter, then coat in the breadcrumbs and put on a non-stick baking tray. Continue until all of the florets have been coated. Bake for 30-40 mins until golden and crisp. Meanwhile, combine all the sauce ingredients and keep chilled until needed.
Cool the cauliflower slightly, then tip into a large bowl. Drizzle over the sauce and toss to coat. To assemble, stuff the cauliflower, lettuce, spring onions, tomatoes, coriander and chilli into the tortilla wraps and serve with lime wedges on the side.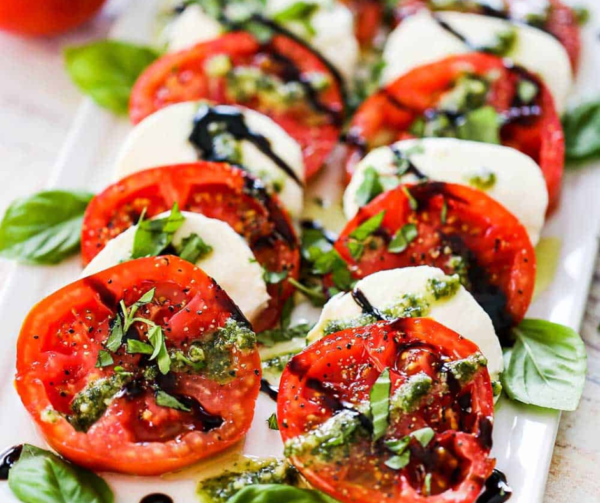 8 ripe plum tomatoes, sliced

2 balls of mozzarella (or vegetarian alternative), sliced

handful of basil leaves

2 tbsp extra virgin olive oil

2 tbsp balsamic vinegar
Arrange the slices of tomato and mozzarella on a platter, alternating between slices of each, and sprinkle over the basil leaves. Season generously with salt and black pepper, then drizzle over the olive oil and vinegar. Serve straightaway.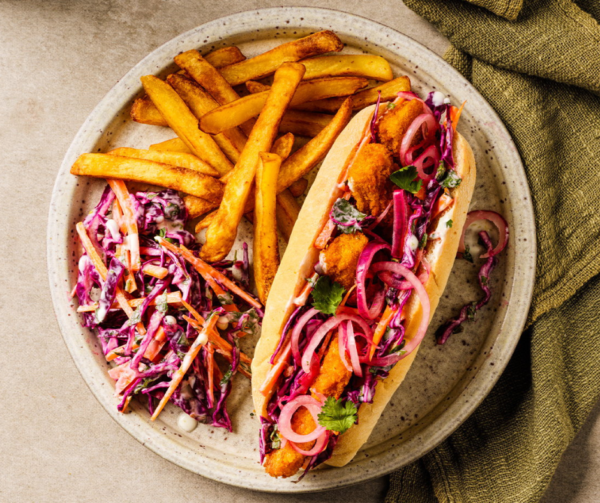 500g frozen chips ( we recommend Aldi skin on fries)

10 frozen fish fingers

1 red onion, finely sliced into rings

½ tsp caster sugar​

2 limes, 1 zested, both juiced

150g Greek-style natural yogurt

1 tbsp vegetable oil​

400g carrots, peeled

½ red cabbage, core removed, finely shredded

20g fresh coriander, half finely shredded

4 hot dog rolls
Preheat the oven to gas 7, 220°C, fan 200°C. Cook the chips and fish fingers to pack instructions.
Meanwhile, mix half the onion rings with the sugar and the juice from ½ lime. Set aside, stirring occasionally, until ready to serve.
In a large mixing bowl, mix the oil. Season, then whisk together with a fork.
Coarsely grate carrots. Tip into the dressing bowl with the cabbage and shredded coriander and toss together until everything is well coated. Season to taste with the remaining lime juice.
Split open the hot dog rolls. Halve the fish fingers and divide them between the rolls, sandwiching with a little slaw, the pickled onions and coriander leaves. Serve with the chips and more slaw on the side.