1. Golden coasts, golf and gourmet cuisine – try a glamorous escape to Fife.
King James VI of Scotland described Fife as "a beggar's mantle fringed with gold."
A back-handed compliment, perhaps, but a holiday to Fife's idyllic East Neuk, with its chain of charming villages and fishing ports, will leave you feeling that you've struck gold.
'Neuk' is Scots for 'nook' and there are certainly lots of nooks, cobbled streets, and moody caves to explore alongside Fife's beautiful beaches.
Scotland's dramatic West Coast gets a lot of tourist attention but there's equal reason to fall in love with Fife's East Neuk. Let us take you on virtual tour of the East Neuk's key towns and attractions to show you why this hidden gem needs to be your next luxury travel destination.
Oh, and while staying at your Fife holiday cottage, don't forget to pack your clubs! From Crail to Kingsbarns, Fife's East Neuk is a haven for golfers.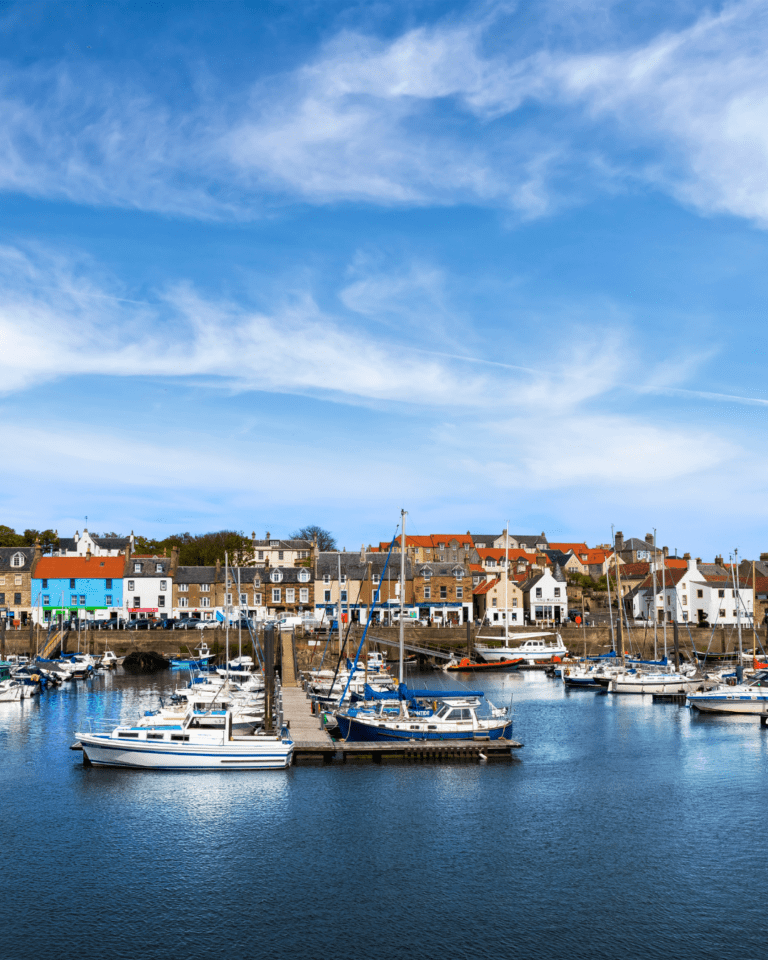 2. Kingsbarns & Cambo Sands
Let's start in the southern end of the East Neuk at Kingsbarns.
Cambo Sands is 2 miles of unspoilt beach, ideal for relaxed afternoon walks and appreciating Fife's stunning coastal vista as the sun sets. It's easy to see why Kingsbarns won a Keep Scotland Beautiful 2018 Beach Award.
Practise your swing at Kingsbarns Links, a Top 100 Ranked golf course situated within a natural amphitheatre. Golf has been played here since 1793 and nearly every hole offers an inspiring sea view.
Find peace within the serene walls of Cambo Gardens. Butterflies bask on flowers of every colour and their woodland is calming retreat from the bustle of daily life. Nip into their café for filled focaccia and slice of cake – all made using fresh, sustainable ingredients.
The Cheesy Toast Shack is also worth a trip. Gourmet toasties are freshly prepared next to the beach by owners Kate and Sam. Try the toastie everyone is talking about – the mac 'n cheese grill!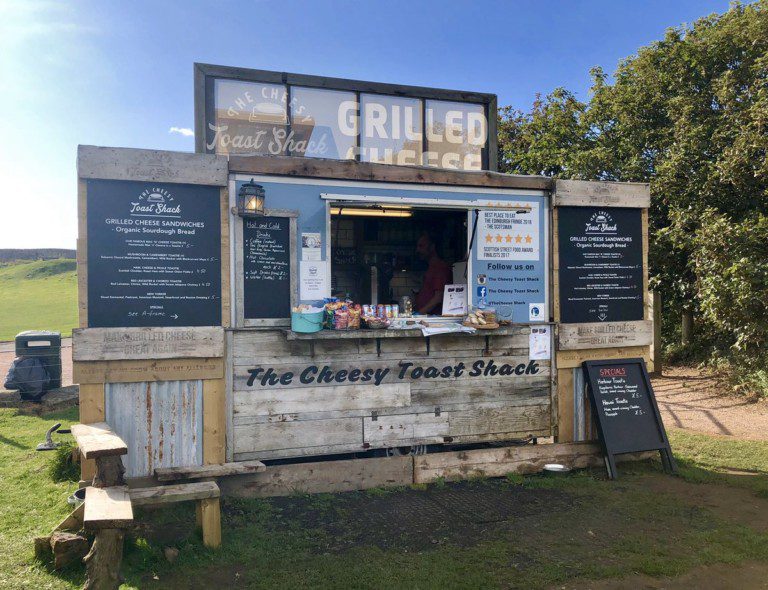 3. Elie, a secret sports retreat
Heading north we reach postcard-perfect Elie.
With a historic harbour dating to the 16th century, cute cottages and boats bobbing in the bay, a luxury self catering break in Elie is an idyllic starting point to revive your spirits.
If you like the thought of cresting a glittering wave with the wind in your hair or becoming master of the sea in your own yacht, Elie Watersports is your first port of call.
For the sporty who prefer dry land Elie Golf Course is one of Scotland's best. With stunning sea vistas its easy to see why Elie has captivated golfers since the 15th century.
Our East Neuk holiday cottages, Ardaan House and The Arches are just 13 minutes and 11 minutes away respectively, making them the perfect golf apartments for a holiday on the links.
For more things to do in this historic seaside town, read our blog post 10 Invigorating Things To Do In Elie.
4. Lower Largo, birthplace of hidden heroes
Often overlooked, Lower Largo is an ancient fishing village, home to charming cottages, an unusual river mouth harbour and a beautiful beach.
It's also the birthplace of Andrew Selkirk, the real-life Robinson Crusoe. A resplendent, life-sized bronze statue guards the cottage where Selkirk was born. An impetuous troublemaker and expert navigator, Andrew Selkirk's experience as a castaway on the deserted Juan Fernández Archipelago, inspired author Daniel Defoe.
The Crusoe Hotel provides a small exhibit about Largo's famous castaway. We also recommend their hearty fish and chips!
Our Fife holiday homes are the ideal base from which to explore Lower Largo's rich history.
5. Pittenweem – Fife's holiday postcard town
Pittenweem is perhaps the most picturesque stop-off on our East Neuk tour. Get your camera ready for its red pantiled roofing, crowstep gables, cobbled wynds and cosy cafes.
Tantilise your tastebuds at The Cocoa Tree Café, home of artisan chocolatiers, Pittenweem Chocolates. Browse fine speciality chocolates from Scotland, Belgium and beyond or curl up with a hot chocolate by the fire after a bracing day of exploring the coast.
Pittenweem means 'place of the cave'. It became known as St Fillan's Cave and contains a Holy Well. Once a site for smugglers, St Fillan's was rededicated in 1935 and today is still used as a place of worship.
If all the pretty cottages have you lusting for your own charming farm cottage to let in Fife, The Arches is a luxury blend of modern meets traditional, with a quaint east-facing veranda and sea views across the Isle of May.
6. Anstruther, the home of fish & chips
If St Andrews is the Home of Golf, then Anstruther is the home of the fish supper.
(Although, true to Fife form, Anstruther also boasts its own historic golf course).
Would a holiday by the sea be the same without crispy, beer-battered fish or a poke of golden chips?
Our penultimate stop, Anstruther is the place to experience a classic Scottish fish supper. The Anstruther Fish Bar is an award-winning takeaway that's seen some illustrious patrons over the years – ask the staff and they might be let you in on their secretive identity! Truly. One of the best things to do in Fife.
Take an exhilarating boat trip to the stunning Isle of May where you can watch for puffins, guillemots, razorbills, dolphins, porpoises and even the odd whale! Catch the pleasure boat from Anstruther harbour and discover Scotland's oldest Bird Observatory, the remains of a 12th century monastery and Scotland oldest lighthouse, dating back to 1636.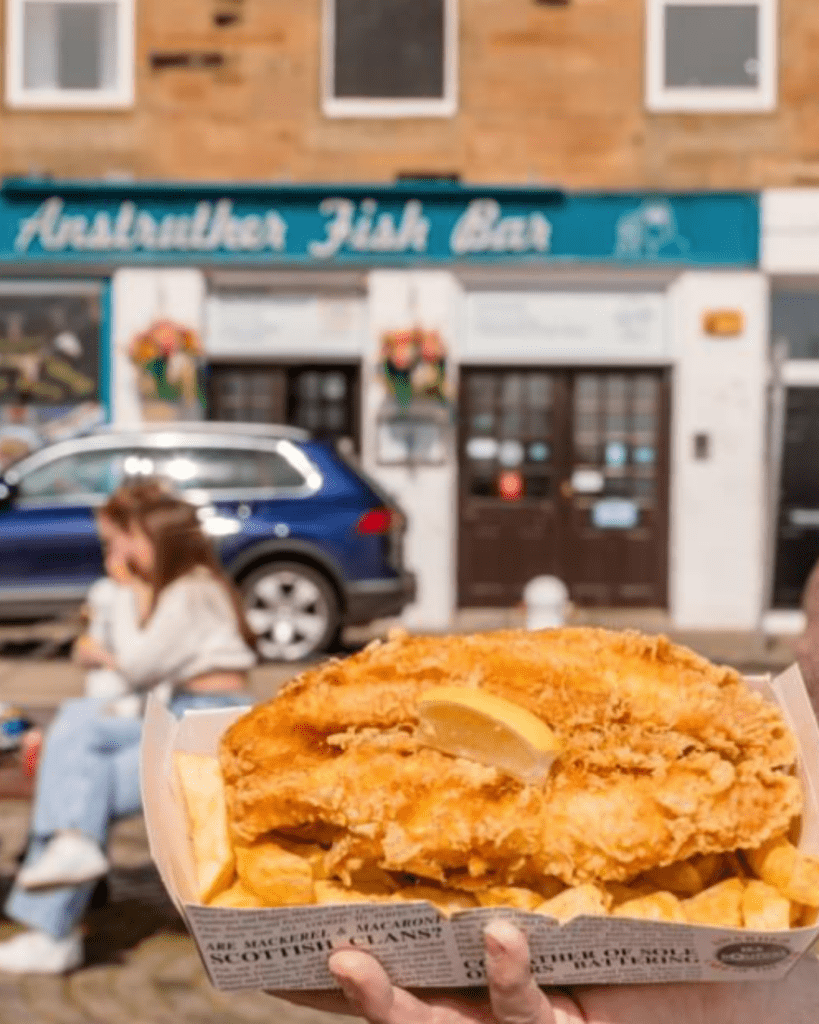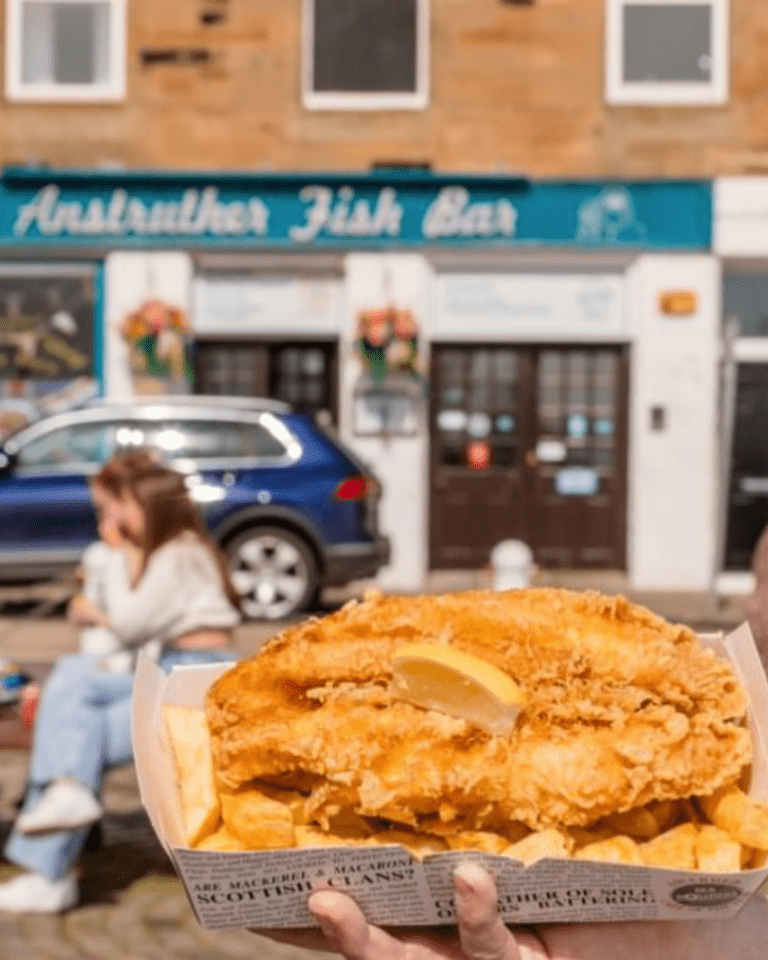 7. Potter Around In Crail
Now we reach Crail, the most northerly stop-off on our whistle-stop tour of the East Neuk.
A quaint, winding road leads to the pretty harbour which is still in use today with small boats catching crabs and lobsters. Speaking of lobster, don't miss the Lobster Hut which serves delicious dressed crab and fabulously fresh lobster rolls. The Lobster Hut has been owned by the Reilly family for many years but be quick – the sell out fast and only open at the weekend.
Step back to the Middle Ages with daunder along Marketgate. No9 Friary Court or 'The Old House' dates back to 1686 and the Tolbooth dates to the 1500s. Crail's Parish Church is older still, with surviving sections as old as 1160.
In June the town plays host to Crail Food Festival, a cornucopia of freshly caught seafood and local produce. Our short term holiday lets in Fife are a stone's throw away, offering the perfect base for your foodies who want to enjoy the festival.
There's also a variety of local eateries. The Golf Hotel is a welcoming nook to sip a pint, watch the boats come in over a cocoa dusted hot chocolates at Crail Harbour Tearoom.
Finally, don't forget to pop into Crail Pottery for a unique souvenir to remember your seaside holiday by.
We hope you enjoyed your tour of Fife's pretty East Neuk! Have you booked your escape yet? Those lobster rolls sounded particularly tempting…
8. Rent a Cottage in Fife
At the Bay  and Clubhouse Cottage , St Andrews are your perfect coastal retreats when visiting Fife. Both cottages are ideally placed for enjoying a coastal treat in the Kingdom. 
Getting here is hassle-free. Edinburgh International Airport is just 45 miles away and Dundee Airport (27 miles) has scheduled flights to London City. Cupar and Leuchars railway stations (both 18 miles away) are on the main Aberdeen to London line and provide a fast link to Edinburgh.